vSphere 5 Upgrade: PSOD for vSphere 4.1.0 Hosts
I had a customer get ambushed by this last week and wanted to put this out there so hopefully no one else will run into this huge problem.  There is a VMware KB article out regarding the issue, however none of the release notes or upgrade documentation has been updated to reflect the information in the KB article.  Bottom line: DON'T UPGRADE VCENTER TO V5 IF YOU ARE RUNNING VSPHERE 4.1.0 (NO UPDATES) ON YOUR HOSTS!
The KB article can be found at the link here: clicky
Most of us have read through the upgrade guide for vSphere 5 and we know that the first step in the upgrade process is to upgrade/install vCenter 5.  After doing that, if you are running hosts at 4.1 with no updates you will begin having problems with hosts disconnecting and re-adding hosts to vCenter.  This could result in a PSOD if you turn out to be unlucky and catch this bug.
For this customer 8 out of 10 hosts in the cluster they were troubleshooting with VMware Support had a PSOD as soon as they re-enabled HA.  Needless to say all the VMs on those hosts went down and had to be brought back up when the hosts came back online.  Luckily there wasn't any corruption within the VMs and they didn't have to go through a lengthy restore process.
If you look at the chart below, VMware has 4.1.0 listed as supported for an upgrade.  Hopefully this will change in the future.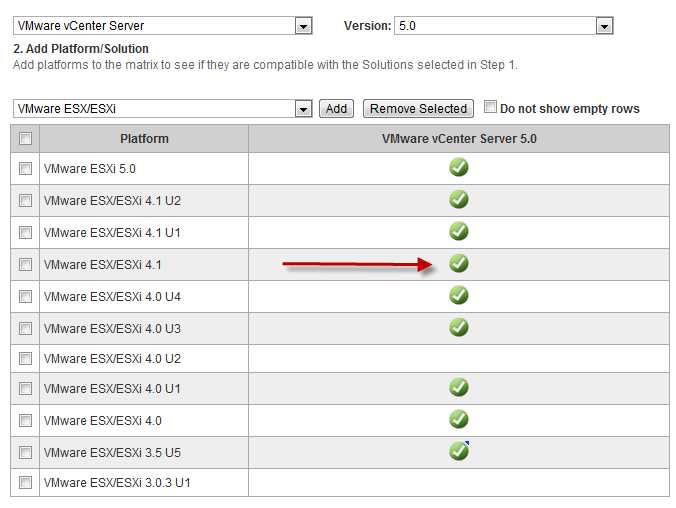 Hopefully this article helped some people before they got bit by this bug.
Update:  Chris Wahl has a great article on this over on his blog as well.  clicky
Update 2:  VMware has changed their compatibility matrix to reflect the bug.  Great and very reactive support as always from VMware!