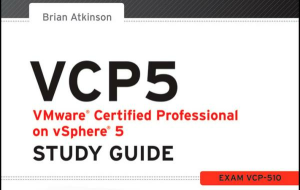 Fellow vExpert Brian Atkinson asked me to review his latest book VCP5 VMware Certified Professional on vSphere 5 Study Guide and I'm glad I agreed to do so.  What a great resource for future VCP 5 test takers to have available to them!  I wish I had had it when I was studying for my test a few months ago.  I highly recommend anyone planning to take exam VCP-510 to buy this book.
Link to the book on Amazon is here: link
It already has a couple 5 star reviews so I am not the only person impressed.  And don't forget that the book comes with a custom online practice test engine with over 300 sample questions and flashcards.
Since I've already passed the test I'm going to be giving my copy away at the Datalink booth at EMC World tomorrow (5/21).  Just keep an eye on twitter and I'll announce what you need to do to win.
Here are some of the features of the book:
Full coverage of all exam objectives in a systematic approach, so you can be confident you're getting the instruction you need for the exam
Real-world scenarios that put what you've learned in the context of actual job roles
Challenging review questions in each chapter to prepare you for exam day
Exam Essentials, a key feature in each chapter that identifies critical areas you must become proficient in before taking the exam
A handy tear card that maps every official exam objective to the corresponding chapter in the book, so you can track your exam prep objective by objective
Sybex Exam Prep Tools