Cisco UCS with OmniStack: Two great tastes that taste great together.
Here we are almost a full two weeks after the big Cisco and SimpliVity announcement at VMworld US telling the world about OmniStack being integrated with UCS C-Series and the co-sell partnership between the two companies. I have to say that being at VMworld and hearing all the buzz this announcement created was exciting. Seeing all the press and comments via social networks made it even more impressive.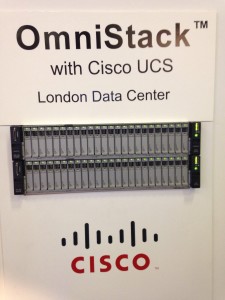 OmniStack with Cisco UCS at VMworld US
But the announcement is not what this post is about.  This post is about all the different implementation options Cisco customers now have by using a UCS with OmniStack solution in their datacenters or ROBO sites.
What exactly is OmniStack?
For the uninitiated, OmniStack is the core software and hardware behind all SimpliVity hyper-converged solutions.  At it's core OmniStack is a Data Virtualization Platform that allows customers to remove most of their storage infrastructure (primary storage, backup dedupe appliance, backup software, wan acceleration appliance, SSD array and caching appliance, cloud gateway, etc.) as well as run VMs directly on the platform. IMHO at it's most basic level, OmniStack has done for data what VMware did for CPU and memory. You can find out more about OmniStack here.
Quick OmniStack with Cisco UCS Specs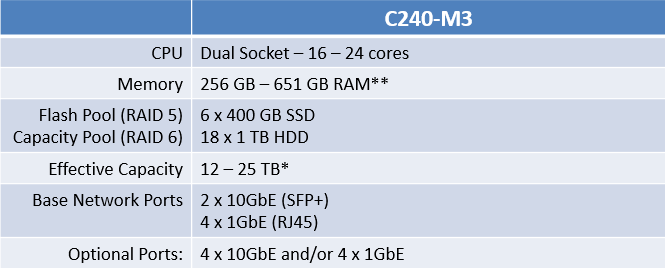 Basic OmniStack with Cisco UCS Solution
The most basic OmniStack with Cisco solution is comprised of multiple Cisco UCS C240-M3 servers with OmniStack integrated directly into each server. You may start with a single C240 (our disks are protected with RAID) and a 1Gb Cisco switch. From there you can scale using a single C240 at a time and scale CPU, memory, storage capacity and IOps all at once. We call this "pay as you grow" using "Lego-like building blocks".  As you grow larger than two C240s you will need to add a 10Gb network into the solution and of course Cisco has options for you there. :)  All management functionality is built into vCenter and you'll never have to log into another tool while managing OmniStack features.  The solution will look something like this: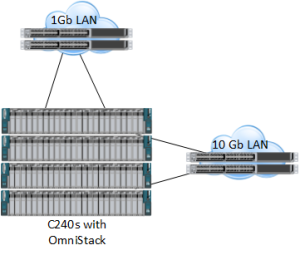 What about B-Series?
We've got you covered. When SimpliVity launched OmniStack back in April 2013 we knew that our customers would have existing investments in infrastructure. We knew that we couldn't be a barrier to entry so from the beginning we created an open system that integrates with any customers existing infrastructure, something our competitors won't do. We allow our customers to present an OmniStack datastore to their existing vSphere hosts, migrate their VMs to our datastores while using another vendors compute resources. When they do this the customer gets all of the OmniStack functionality we provide. From true inline dedupe, compression and optimization to zero-byte backups, wan acceleration, etc.

So having said all of that I am happy to say that we integrate directly with UCS B-Series blade systems. Whether that is the newly announced UCS-Mini or the long standing full fabric UCS solution. This gives you the ability to grow your compute platform either separate or with your hyper-converged infrastructure. Here are couple of examples that I put together to illustrate the solutions:
Full Fabric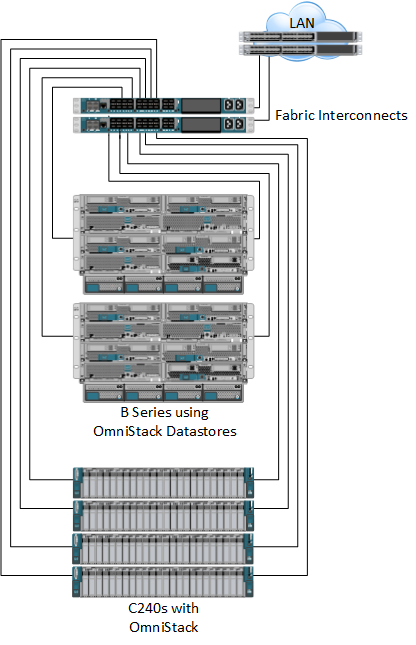 UCS Mini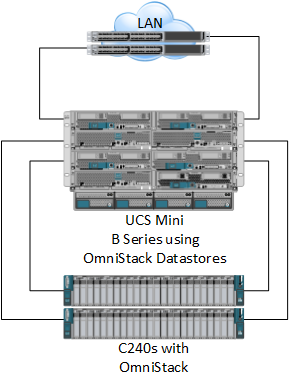 So as you can see while this is a simple solution it is also an all encompassing solution as well.  Essentially we have replaced the entire legacy IT stack with a fully hyper-converged solution and allowed you to scale compute separate from storage.  Oh, and all of this can be managed through UCS Manager for the bare metal stuff and all OmniStack functionality is managed through vCenter. Two interfaces that UCS customer use already!
How do I buy this?
Just talk to your favorite Cisco and SimpliVity partner.  It's as simple as that.

 

So that's it. I hope this outlines some of the possibilities of an OmniStack with Cisco UCS solution for you. It's a really simple solution but extremely powerful and complete at the same time.  If you have any questions feel free to leave a comment or hit me up on Twitter.